A life lived board gaming
Essay Filed in: Board Gaming Posted: 1,488 words
It was a long, winding road to get me to this point.
Growing up, we played the typical games. In Brazil, we had Taboo, Rook, Pit, Chutes and Ladders, Settlers of Catan (it will always be 'Settlers' to me, rather than 'Catan.' We even bought the expansion — back in 2003!) On visits home to the US with the family, we played more standard fare: Careers, Guesstures, Apples to Apples, even Game of the States. I played all of these games, and still think of some of them fondly. Rook and Pit are probably better games than most card games that released this year.
Someone well-meaning had bought us Canasta Caliente because 'we lived in South America,' forgetting the fact that we lived in the one Portuguese-speaking country in South America, rather than Spanish. As far as I know, we never played this game, but it sat in the closet with the others. I still remember how that closet (a converted wine closet — my parents were teetotallers) smelled of cardboard, old grapes, and dim lighting. I was certainly not a board game geek: I was just a kid.
As a teenager, I got sick of games. To be fair, the sorts of party games our extended family played together were raucous and noisy, and I hated the 'popularity contest' style of Apples to Apples and the like (spoiler alert: I still do). They were annoying exercises at boisterous family gatherings, and that was all there was to it. So I swore off board games. I became the boy who hated board games. I was happy to continue that way for years.
It was my father-in-law-to-be who shook me out of this. My wife and I were high school sweethearts, at a small private school in Moscow, Russia. My first time visiting their house, we watched a movie, and then he pulled out a board game. Poor me, of the board-game-swearing-off-ness, was subjected to a game of Power Grid. I can't imagine why he thought it was a good choice for a non-gamer!
All that said, I had fun playing it, and I liked her family. We both left for college, and when back visiting our respective families in 2013, I took the chance to propose. The proposal would definitely be what I remember most from this visit, but second to that would be the game that Tim taught me on the trip: Smash Up. I was totally and completely hooked on Smash Up. There are likely three dozen plays of this game that I never logged because I wasn't a board-gamer: I was a Smash Up player.
Fast forward a year and a half, and Alisha and I were married, and I was in a brand new town with no friends. "Why not have a game night?" Alisha suggests, and I didn't realize how much those words would change our lives. I didn't know a soul in town, but Alisha was still in college at the time, and maybe, with a game night, we could meet and make some friends. At the time, she had more experience with games, growing up in Tim's house, though ironically, my enthusiasm would soon far outstrip hers!
Our first game night, I'm not positive, but I think I had two or three games. I had purchased my own copy of Smash Up, and we had bought Alisha's favorite game, Dixit. I believe Sushi Go! and Shadows over Camelot, wedding presents, rounded out the collection. It wasn't much!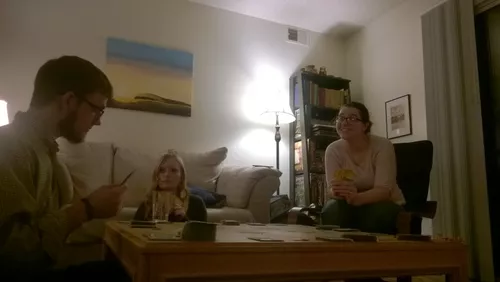 A few people came, but Alisha realized we could get more people out each week if we harmonized her hobby in with mine: cooking. A free meal and some games was enough to get a couple of folks out each week. I can only find one picture of an early game night, because we had no idea they'd come to be so significant in our lives. You can see the nascent game shelf in the background.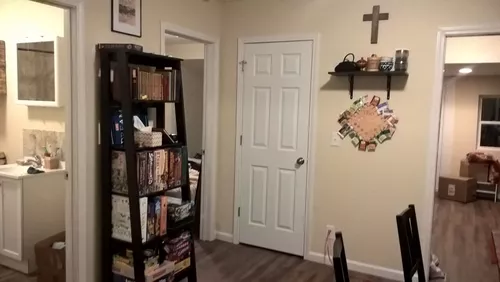 Our rental house, after the apartment, was a little tiny 800sq.ft. house, but we once crammed 25 people into this house for a game night. Note my game shelf that has room on it for other things! This would soon change. Potato quality, but the collection consisted of something like: Shadows over Camelot, Small World, Ticket to Ride, Escape (still one of our favorite games), Mission Red Planet, Sheriff, Acquire, Tokaido, King of Tokyo, Carcassonne, Dixit, Smash Up, Glory to Rome, Guesstures, Sushi Go!, Spot it!, Hanabi, Axis & Allies, and then a bunch of games I can't identify. We were definitely under two-dozen games, though that would change. What's crazy is that a solid 8-10 of these are still cornerstones of the collection.
As a sign of how much things had changed from my teen years, Guesstures got a lot of play in the early days. We always played guys-girls, and wrote the wins on the trophy. Last I had checked, the girls were ahead — but I still regret getting rid of that box. Maybe gaming for me is more about having fun with people than playing games with the zomg best mechanics.
---
All this is just a means of introduction. The reason I fell in love with board games again was that they answered my initial problem. I swore off board gaming because I didn't understand the social side of it. As an awkward teenager, board games made me uncomfortable: they pushed me out of my introverted patterns and forced me to interact with people. Now, that's exactly what I love about them.
Board games are a framework for social interaction. In short, they bring people together.
This is what ended up happening to our weekly game nights. We've forged our roots in Kansas City by means of games. When we moved to a new church, we started inviting church friends to game night. We've invited game night friends to church. Everyone who comes knows that it's an open house. Bring your friends: there will be enough food for everybody, and all are welcome, unconditionally. We've watched people get engaged and married through game night. Now, our kids are growing up with one another and the familiar routine of a weekly time together at our house.
At this point, it's not about the games anymore. Board games are a convenient way to interact with the people we meet through game night: a framework for social interaction.
Sure, I like gaming more than I ever have, but I actually scratch my 'gaming itch' through other, smaller gatherings throughout the week. Game night isn't the chance to play the latest Kickstarter extravaganza: it's a place to make friends. We started it because we needed friends, and we continue it because everyone needs friends in their life. Everyone needs a place to go where they will be welcomed and appreciated. 
So it's not just about the cardboard anymore. We have nearly every dixit card that's ever been printed, and I still remember specific hints that specific people have given for certain cards. Some favorite games are just being rediscovered now by a new generation of gamers: pre-teens figuring out how to lie to their friends in Sheriff, or learning multiplication with Tumbling Dice. When I sit down with old friends to play a hand of Glory to Rome, what we experience there transcends the mechanics of an out-of-print Chudyk game.
Perhaps I'm rambling, but after all, that's my right at this point: it's my blog.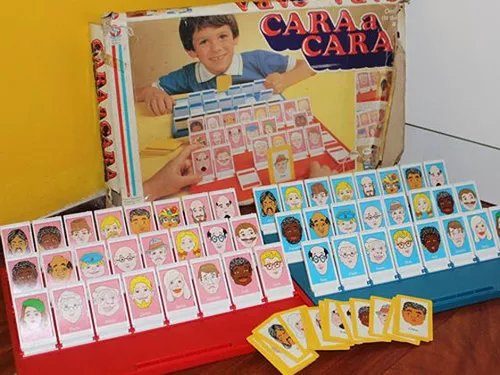 "Cara a Cara" was a Brazilian version of Guess Who that I grew up with. Translated, it means 'face to face,' which actually is far more clever than 'Guess Who,' and feels appropriate to describe a hobby that's meant so much to me. When I think of it, I still think of playing with my Dad at a very young age.
And that's the point: what is board gaming but face to face time with friends and family? The pandemic has dealt us a massive blow, but game night persists after a year-long break. Who knows what Delta holds for us, but as long as it's possible, we're going to continue welcoming people into our home, Saturday after Saturday. Game night is the highlight of each week for me.
Even as we've welcomed kids into our house, and our friends' families grow, and new people continue to discover the craziness, we all keep showing up to spend a couple hours playing games together. We frequently span three generations under one roof, and a couple cats for good measure. Game night is one of the most beautiful things that's happened to me and Alisha in six years of marriage, and I wouldn't trade it for a million bucks.
If you're ever in Kansas City, come on by on a Saturday evening. Alisha will have a pot of something going on the stove — enough to feed an army — and we'll crack out an old favorite to make new friends over cards and cardboard scattered across the table. I hope to see you there.