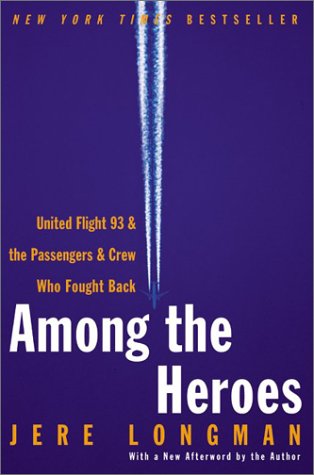 Recounting the tale of September 11th, 2001, Among the Heroes by Jere Longman is a book that tells the heroic story of the passengers of United flight 93, who attacked the hijackers and prevented them from completing their plans. Longman calls these passengers the first military deaths in World War III; the war on terrorism, going so far as to call them soldiers against terrorism.
The book contains personal interviews with family members of the crash victims, and also contains information and interviews from the family of the lead skyjacker, Ziad Jarrah. Throughout the book, I learned more about what went on aboard flight 93 before the hijacking and what the passengers ultimately tried to do: take over the aircraft.
I must say that this book inspired me. Compared to the destruction at the World Trade Center and the Pentagon that day, United flight 93 is an example of Americans who did not take the attacks lying down. Their heroism should and will be remembered.
Another interesting thing about this book is the normality it emphasizes. These were normal people, not superheroes by any stretch of the imagination. They were businesspeople, mothers, husbands, engineers, and more. But they had the courage to strike back.
As we come up on the nine-year anniversary of the 9/11 attacks, this book is a reminder of the bravery God gives us, and what ordinary people can accomplish through His strength. I highly recommend reading Among the Heroes.
Published on 3 September, 2010. Last updated on