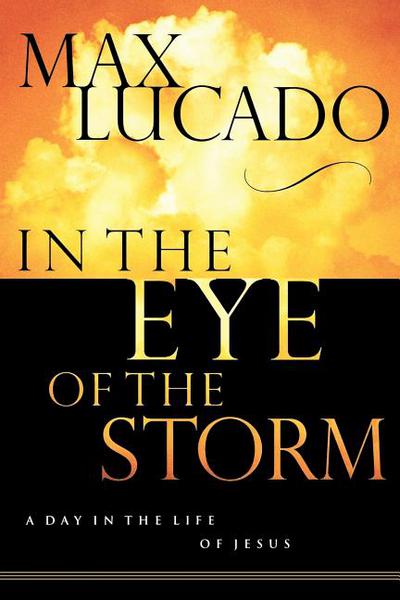 How can God in heaven relate to us here on earth? That is the question Lucado asks in his book 'In the Eye of the Storm'. Throughout the book, Max Lucado analyzes the only day of Jesus' life that all four of the gospels recorded (other than the crucifixion)
During that stressful day, how did Jesus handle all that was coming at him? "In the Eye of the Storm" takes a day in the life of Christ when everything happens to Him, and reveals the attitudes Jesus had while going through the day. It asks us, "What did Jesus know that allowed him to do what he did?"
On this one day, everything happens to Jesus. It begins with Him finding out that his friend, coworker, and cousin, John the Baptist has been beheaded by Herod. Jesus decides to go and be alone, when his disciples return from their assignments. His sorrow turns to exuberance as they relate their triumphs. Then Jesus is surrounded by a mass of humanity, possibly as many as 20,000 people, who follow him and interrupt his plans.
That's what the first section of this book emphasizes. God has been through stressful times, just as you have! (Hebrews 4:15) God sees us with Father's eyes. He sees our problems, yet also our value. This is part of the answer to the question asked at the beginning. What did Jesus know that allowed him to do what he did? He knew the value of people. These people asking for healing became a source of joy, rather than stress.
Max Lucado also covers the fact that Jesus felt the pain of the people there. He was so touched by their needs that he forgot his own. This is important: some solitude is good, but some service gives us perspective. If Jesus had isolated himself all of his life he would not have felt the pains of the people there asking for help.
And Jesus had another secret: when giving the loaves and fishes to the people, he gave thanks for them. This wasn't a ritual Jesus always did but a moment of contact and encouragement from the Father. Later, Jesus didn't minister to the crowd, which was important, but instead left to go be with the Father, which was a vital part of him.
What Lucado means by pointing out these two instances is that Jesus maintained contact with the Father throughout this day and the Father was encouraging him.
The second part of this book is called 'Storms of Doubt'. Mr. Lucado gives the analogy of a window through which you can see God, until a pebble breaks the window. After He feeds the 5000, he sends the disciples off in a boat with a storm brewing, and all they see is his back going up the mountain. Then the storm breaks, and the disciples are fighting for their lives. They ask, "Does Jesus really care about us? Why did he send us off when he saw this storm coming?" Why doesn't he come for them? (And us?)
Mr. Lucado leaves us with the message, "Keep going. Yesterday's challenges are worth today's trials." Jesus was leaving the disciples with the same message James gives, "Consider it pure joy, my brothers, whenever you face trials of many kinds, for you know that the testing of your faith develops perseverance."
But what about doubt storms? Lucado tells us to pray for the impossible, as Jesus did. But be patient. Using various stories, Max Lucado gives us a picture of how Jesus was helping his disciples to grow while they doubted him. At the beginning of the day they had returned from their assignments, yet couldn't even help him multiply the loaves and fishes. Jesus, by leaving them in the storm, was helping them to trust in Him. Peter then, in his desperation, walks out on the water to his Master, trusting in him to support him.
The third part of this book is called the Sting of Failure. What about guilt? What does God do when I fail? We come to Christ in the moments of our greatest need. Salvation is God's sudden calming presence during the stormy seas of our lives. Do we try to do it on our own, or do we cry to the Lord to aid us? Peter failed. He began to sink. But instead of trying to convince his peers he merely wanted a swim, he cried out to Jesus, "Master, save me!"
In the third part Lucado wrote a passage that I really liked, and is really crucial to this last part,
"Worship is when you're aware that you've been given is far greater than what you can give."
This book has been hard to review. It's written in a very informal manner, and it's hard to summarize the many stories the author uses to get his point across. They all connect to one another, so to try to tell one in the book you must go ahead and read the entire book.
Published on 24 January, 2010. Last updated on