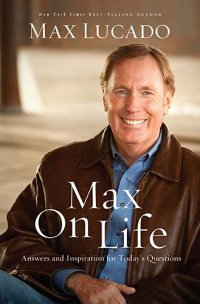 I recently finished reading the book "Max on Life" by Max Lucado. This was an interesting read; Max seeks in this book to unlock some of the most basic questions about life. As Max writes, "We have questions. Real, important, and challenging questions." In this book, he takes around 200 questions and tries to answer them from the Bible and the Christian faith. Read on for my full thoughts of the book.
Obviously, a book geared towards non-believers is going to be more informal in style, and Max's book fits in with this assumption. Bible quotations are from easy-to-read translations (a practice I don't necessarily agree with) and his words are easy to understand and follow. Really, I doubt someone would read the whole book through as I did; instead, it can be used to find answers to your specific problems. Max follows seven specific sections in this book, which range from "Him and Her" to "Hope" and "Hurt."
I can't fault much of what Lucado writes in this book. In fact, a lot of it I strongly agree with. He grounds his words in Scripture and much of what he says holds good truth. A few questions, particularly, "Do people who have never heard about Jesus go to Hell?" bothered me, simply because his conclusions do not match my beliefs (To sum up: he believes no; I believe yes, but I won't go into that).
Ultimately, a book is only as good as its author. Max Lucado, as good of a man as he is, is still a fallen human. Thus, I would recommend this book tentatively – Scripture, and true study of what it contains, is always the best answer to your problems. That being said, Max Lucado's book can be a helpful tool, for each question mentions several scripture references which you can use in further study.
If I were to say one thing to potential readers of this book, it would be this: any book like this is good, but ultimately it is written by a human author. For the best study and answering of your questions, I most highly recommend studying a different Book, written by a heavenly Author.
Note: This book was provided to us for free through Booksneeze. They provide free copies of books for us to review and we are very grateful for their service.
Published on 18 April, 2011. Last updated on