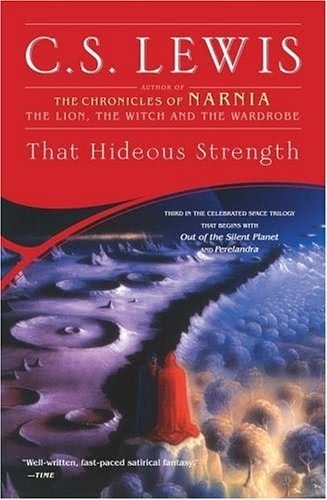 That Hideous Strength, by C.S. Lewis, is a book I had looked forward to reading, but frankly I must say that I am unimpressed. As a stand-alone book it might possibly be good, but as the ending to the Space Trilogy I'm very disappointed. The style is completely different from the first two and the plot is slow and monotonous.
In the first place, the book has very little plot connection with the first two books, and introduces totally different characters. Doctor Ransom, in the original two books, isn't even a main character but does factor in to the story. The book is about a couple named Mark and Jane Studdock. They find themselves working on opposite sides, both sides trying to 'save humanity' though Mark has been led astray and is actually working for the evil side which is trying to create a race of super-humans after eliminating most humans.
It's not that the book itself is so awful. Alone, even, it might have been one I enjoyed. It's not super well written (I didn't realize the climax was the climax until after I'd read past it) and since he insists on patching it on at the end of the Space Trilogy he ruins it. The book is a lot longer than the first two and is a lot harder to read. I had to look up several words in the book, but had no problems with the first two.
If you've read the first two books and want to see how the series runs out, you won't gain much from reading this book. I suppose if you're an avid reader that reads books quickly anyways you could give this a whirl, but treat it as a book that happens to have some connections to the Space Trilogy rather than one that is part of the Space Trilogy. If you're a slow reader, and you're looking for good reads, then try Out of the Silent Planet and Perelandra, both of which I highly recommend and don't even bother reading this one.
Though the book is a weak read, it was interesting to see a lot of C.S. Lewis' philosophies from other books (Specifically, The Weight of Glory) run into this one. The two that were most predominant in That Hideous Strength were Lewis' thoughts on Inner Rings and on learning during war-time. After reading The Weight of Glory, I was able to see more clearly where Lewis was coming from in this book.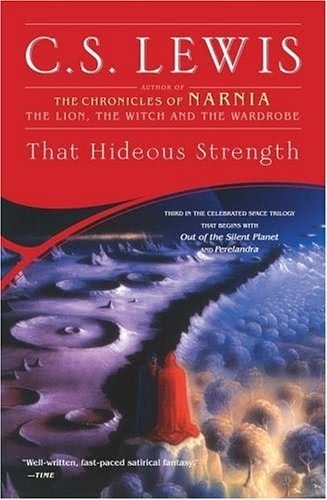 Enjoyed the review? Pick up a copy yourself and support ItB:
That Hideous Strength — C.S. Lewis, $13.45
Published on 8 June, 2010. Last updated on