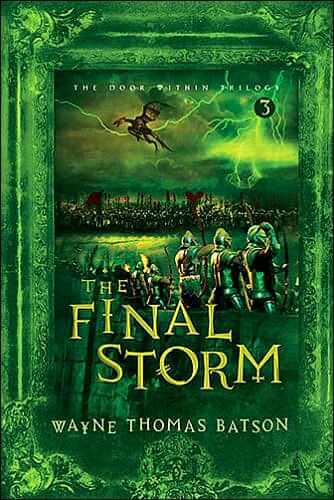 The Final Storm, the third and final book of the Door Within Trilogy, concludes the wonderful adventures of the kingdom of Alleble and the followers of King Eliam. This book picks up the story from The Rise of the Wyrm Lord, so I recommend that you read that book first. Many of our favorite characters come back to wage the final war against Paragory, the Wyrm Lord, and the Seven Sleepers, which will determine who will have the final victory in the Realm.
Meanwhile, in the Mirror Realm, Aidan is on his way to visit Robby, a good friend of his. But unfortunately, Aidan soon finds out that Robby is on the wrong side, and as a result, Aidan will do anything to convert him. It is evident that many of the evil forces that are clearly seen in The Realm, are just as powerful in the Mirror Realm.
There are many prophecies in The Realm, and one of them is that of the Three Witnesses. It is said that the Three Witnesses will lead Alleble to complete victory, if they make the right decision. This is one of the things in this book that I don't really like. King Eliam (God) should be the one to bring victory to Alleble, it shouldn't hang on a thread because of someone's decision. Many times in the book it seems that Paragor will have the victory if the armies of Alleble don't do things "quite right". But in a way I do like it. Because even though evil forces may seem to gain more power and seem to overcome us at times, everything will work out, because we will be with God forever. And all the things that we gain in this world are worth nothing when the earth is destroyed.
I am excited to say that I have found another trilogy that I will be reading more than once. The writing style as well as the wonderful parallels with our Christian life make these books one of the top on my list of favorites.
Jessica Woode
Published on 24 April, 2010. Last updated on