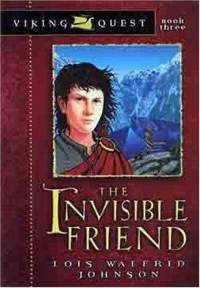 Deep within the Aurland Fjords of Norway Mikkel's ship lays anchor in his homeland. But to Bree's surprise Mikkel is not welcomed with open arms as a favored son who has made a mighty conquest. Instead Mikkel's father (a powerful Norwegian Chief) is displeased with his son's lawlessness and shames him for separating his prisoners from their families.
The third story in the Viking Quest series builds off of it predecessors as Bree continues to struggle with her slavery, battling with feelings of worthless and feeling disrespected. How could God use a young slave separated from her homeland? Our young heroine longs to be what she is, the respected daughter of an Irish chieftain, but cannot reveal her heritage for fear Mikkel will drive up her ransom price. Yet again Bree learns that God's plans are not what we think they will be. Her prayers for usefulness are answered when Mikkel allows her to read the bible he stole from the monastery to his grandparents.
Devin has conquered his hate and is now prepared to free his sister at all costs, but complications soon come into the picture as Bree and Devin run into a young Irish lass who looks surprisingly like someone they knew and loved seven years previous. Devin finds himself imprisoned and must await his trial.
Mikkel spends the book searching his soul for any signs of true honor within him as he come to realize he desires respect rather than fear. He soon decides his desire is to be trusted, instead of always being questioned on his personal gain. Mikkel knows in his heart that he can trust the words of his Christian slave, but struggles with her status as a slave, rather than his equal. But by the end of the story Mikkel comes to find that instead of despising Bree and Devin, he actually respects them. Mikkel learns that to be trusted, he must prove himself worthy of trust.
Bree finally comes to terms with her physical slavery and learns that it does not affect her spiritual freedom. She was not a slave, but the daughter of the King of Kings! Bree realizes she has a very powerful, Invisible Friend who will never leave her.
Our story ends with a surprising twist that leaves readers with tears in their eyes and pride in their hearts as Bree and Devin face a renewed battle of fear and hatred. They are both willing to sacrifice much for each other, but in the end Bree makes the most heartbreaking sacrifice that may leave you speechless. Bree learns to survive in this foreign land because she has found ultimate peace in Christ. Throughout all the troubles and trials, the siblings remain strong in their faith and true to their biblical mandate of living out Christ before the world.
P.S. Yes, I just realized that I never posted my third review for this series, and I decided to rectify that situation. Sorry, guys, for the inconvenience.
Published on 18 July, 2011. Last updated on