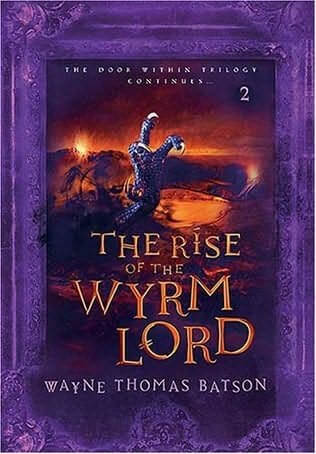 In this second book of The Door Within Trilogy, I continue to admire Wayne Thomas Batson's writing. It is full of adventure and mystery, but we also learn that adventure always has a risk, and you can never justify straying off the path, even if it is for a good reason.

The book starts out with our beloved Aidan Thomas (Introduced in The Door Within, book 1.) back in the Mirror Realm, as our world is called. During his first few weeks attending his new school in Colorado, Aidan meets Antoinette Lynn Reed, who is also a believer in The Story and The Realm, and whose Glimpse twin is Gwenne. Through this common bond, they became friends. Antoinette has been a believer since she was a child, but she had begun to experience unexplainable dreams, just as Aidan had before he entered into the Realm. Aidan convinced her and her family that maybe she might be called to The Realm as well. But Aidan had also been having dreams, seeing his friend from Maryland, Robby, as one of those of Paragory! Antoinette promised Aidan that she would try to convert Robby while she was in the Realm, so that he would also be a believer while in the Mirror Realm.
Antoinette experienced many of the adventures in the Realm just as Aidan had, but her main mission was to restore an alliance between Alleble and Yewland. While on that mission she became good friends with many of the knights of Alleble, including Aelic, Aidan's Glimpse twin. But while on that mission they all learn that Paragor is scheming something much more evil and dreadful than even they could imagine…
There are many legends in The Realm, one of the oldest is that of the Wyrm Lord, which is said to be the firstborn of the dragons. It was locked in it's tomb below a lake of fire in the Shattered Lands, and it had the power to control the Seven Sleepers, some of the most ancient enemies of Alleble. In this book, Paragor released the Wyrm Lord, planning to use its power, as well as that of all the armies of Paragor to destroy Alleble. I am honestly not sure where the parallels lie with these legends, if there are any. But the main point is that there are great evils and forces that we must fight against.
In all these events, Antoinette found Robby's Glimpse. He was a leader of Paragor's army, and his name was Lord Kearn. She tried desperately to defend his life while also trying to convert him, but when she and her company were to go in a different direction than those of Kearn's army, she was torn. She eventually did rebel against Kaliam's orders, and followed Kearn instead. Some of her close friends advised her not to, but she would not heed their advice, and she abandoned the mission that King Eliam sent her to do. This was one of the applications that really stuck out to me in this book, that you can never justify straying off the path and abandoning your calling by God.
I very much enjoyed this book, and would recommend it to all, though I would suggest you read the first book of the trilogy first. 🙂 I did not notice as many distinct parallels in this book, but the life lessons and applications are hard to miss and very convicting. The book does leave you hanging, so I'll be sure to read the next and final book quickly so I can get a review posted as soon as possible!
Published on 17 March, 2010. Last updated on