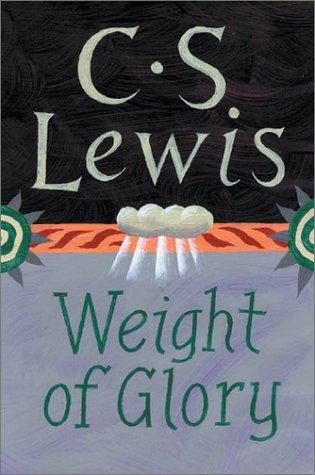 The Weight of Glory is a very interesting book that I read today. I picked it up at a yard sale because it was by C.S. Lewis and the cover looked interesting. I hadn't even heard of it, but after reading it I've decided that it's a very good book.
It's actually a collection of eight essays and sermons that C.S. Lewis wrote in his middle-aged years. The first, essay is what the book is named after, and is also the longest, being about one-fifth of the book. It discusses heaven and the concept of glory. Lewis argues that heaven is something that we should look forward to, even if we can't see the benefits of it now. In the second half of the essay, he analyzes glory and how that relates to heaven.
The second essay is entitled 'Learning in War-Time' and is a talk that C.S. Lewis gave to a group of Oxford students during World War II. It summarizes different thoughts about learning and why war exists. Following this essay is 'Why I am not a Pacifist', which compares Reason with Conscience, and examines why conscience controls pacifism.
'Transposition' is the fourth essay, and it is more difficult to understand. I had to look several words up and C.S. Lewis seems to be speaking to a very educated crowd. Transposition is the relation of a lower thing to a higher, as in 2 and 3 dimensions. C.S. Lewis takes this topic and relates it to our spiritual lives and relationship with God.
The fifth essay had a very interesting title: 'Is Theology Poetry?' In it, C.S. Lewis observes what poetry is, and then compares modern beliefs (evolution) with Theology, against the backdrop of poetry. He concludes that Theology is not poetry but then goes on in further comparisons of theology and science.
'The Inner Ring' was the sixth essay that touched on inner rings, or 'secret societies', cliques as we now call them. Lewis compares the false happiness that can be gained from these groups to the real happiness gained from friendship that appears to be an 'inner ring'. In his seventh talk Lewis talks on 'Membership', which covers such topics as collectivism, democracy, and the concept of the body of Christ. The last essay, 'A Slip of the Tongue', talks about eternity.
Since the book isn't one continuous book, but instead covers eight different smaller subjects, I think it is best to read this book slowly…maybe one essay at a time. This allows you to digest and think about Lewis' comments on each subject better. All in all, I thought that most of what I read in 'The Weight of Glory' was very good and well worth reading again.
Published on 5 June, 2010. Last updated on